SWAN stands for the decriminalization of sex work, abolition of the unjust criminal system, and dignity for all.
SWAN (the Sex Workers and Allies Network) started in the aftermath of a rash of police arrests and attempts at public shaming of sex workers in the New Haven, Connecticut area. Activists united and successfully demanded an end to schemes by the New Haven police to conduct stings against sex workers.
SWAN continues to push for full decriminalization of sex work and drug use, in order to promote the health and well-being of people living and working on the streets.
Our commitment to harm reduction means that SWAN attempts to meet people's most pressing needs without standing in judgment of their choices.
SWAN is also committed to the principle of "nothing about us without us": the organization is led by people with lived experience in sex work, incarceration, drug use, and homelessness. One of the key aims of the organization is to bring sex workers into decision-making roles both within the organization and within the city of New Haven.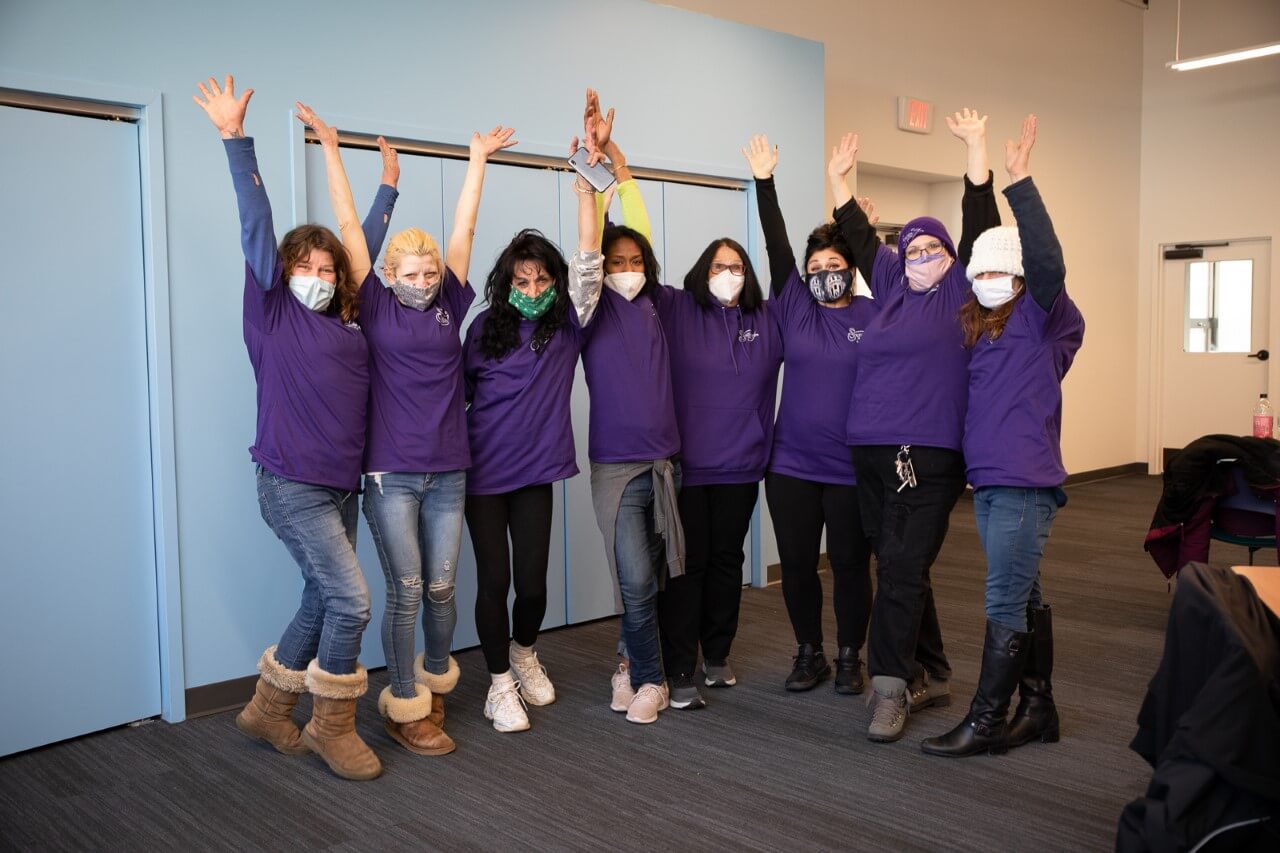 To counter the harms of structural disempowerment, SWAN connects to people on the streets to basic resources. Often meeting people at their point of most urgent need, SWAN bridges the gap between the streets and social service organizations. SWAN's outreach team distributes harm reduction supplies and operates a syringe exchange, allowing people to reduce the harms associated with drug use.
SWAN advocates alongside our members to local authorities and service providers, who frequently have an incomplete understanding of the needs of those involved in sex work. The stigma that sex workers experience in health care settings has a direct negative impact on their health.
SWAN partners with the Cornell Scott Hill Health Center in New Haven to offer on-the-spot medical treatment, physical and psychological evaluations, and necessary prescriptions and referrals.
SWAN believes that the harm reduction philosophy of "meeting people where they are at" requires ongoing contact. Our Mobile Outreach Van allows our outreach team to have a regular presence in neighborhoods across New Haven and surrounding towns, offering compassionate and nonjudgmental support.
Leadership Development Program
Launched in March 2021, SWAN's Leadership Development Program is an extension of the model of mentorship that SWAN has used for on-the-job training for our on-foot outreach workers. Over the course of ten biweekly sessions, the Leadership Development Program introduces SWAN members to topics such as storytelling, self-directed goal planning, professional boundaries, diversity and dignity, mentorship, self-care, communications strategies, and advocacy.
The goal of the Leadership Development Program is to develop self-determination of self-directed goals, self-awareness of one's words and actions, self-reflection of past and present moments, and responsibility with a focus on positive outcomes and decisions.
In order to bring our members the highest level of service and most resource options, SWAN partners with select area organizations.
In order to bring offer our members wider support and build solidarity in our community, SWAN partners with the following organizations.
Greater Hartford Harm Reduction Coalition
The Greater Hartford Harm Reduction Coalition (GHHRC) is dedicated to promoting the dignity and wellbeing of individuals and communities impacted by drug use. GHHRC holds that every individual deserves a participatory voice in the public dialogue regarding drug use policies, programs and practices. Through advocacy, training and service, GHHRC aims to ensure the availability, adequacy, accessibility and acceptability of services and resources that remediate the adverse consequences of drug use.
Yale University's Global Health Justice Partnership
The GHJP is a program hosted jointly by Yale Law School (YLS) and Yale School of Public Health (YSPH) that tackles contemporary problems at the interface of global health, human rights, and social justice. GHJP collaborates closely with SWAN on issues related to both policy and direct service work.
New Reach inspires independence for all people affected by homelessness and poverty through a continuum of housing and support using the most innovative, progressive, equitable and inclusive methods. New Reach serves thousands each year throughout Fairfield and New Haven counties, providing a full spectrum of housing services from eviction prevention for public housing residents, to the development of affordable and supportive housing, and everything in between. SWAN shares space with New Reach at 269 Peck Street and operates many of our programs at the New Reach facility.
Connecticut Bail Fund allows people fighting criminal charges to return home, keep their jobs, maintain custody of their children, and defend themselves from a place of freedom CT Bail Fund's mission is to reduce the direct harms caused by criminalization, incarceration, and deportation while building power among the people and families in our community who are most impacted by these systems.
Cornell Scott-Hill Health Center's Homeless Health Care Outreach Team
Headed up by APRN Phil Costello, this team delivers medical and psych care, and provides referrals, all in the street. To read more about Phil and the team's work, click here, here, or here.
The Prison Project at Quinnipiac University
Professor Amber Kelly is a long-time member of SWAN and teaches in the School of Social Work. She runs a seminar titled "Teaching People in Prison to Cope with Trauma and Recovery" inside York Correctional with Quinnipiac students. She also facilitates SWAN's Self Care on the Streets group, where members learn and practice positive self-care and coping mechanisms, such as breathing techniques.
In 2018, Yale's Dwight Hall honored Executive Director Beatrice Codianni with the distinction of Neighbor in Residence. Dwight Hall shares much needed resources with SWAN and helps to nurture us as our programming and team grow. In 2020, SWAN hosted three interns through Dwight Hall's First-Years in Support of New Haven (FIS-NH) program.
DESK
Since 2017, DESK has partnered with SWAN to provide space for outreach workers at its dinner and food pantry programs.  DESK also works closely with SWAN outreach workers by preparing pantry bags suitable for people experiencing homelessness (pop-top cans and easy, ready-to-eat items) which then are distributed on outreach routes.
In addition to providing resources and referrals to its members, SWAN hosts its own programs.
Below are some of the programs we have hosted in the past. New programming is always in the works. Get in contact with us to find out what programs are currently running.
Self-Defense Classes – Krav Maga instructor Andrew periodically comes down from Western, MA to lead our self-defense classes. While classes are led by the instructor, content is crafted by SWAN members to reflect their own personal safety needs in street-based sex work.
Group Therapy – Led by a certified therapist, these trauma-informed groups are a safe space for members to share what has been weighin on them, as well as self care tips, breathing exercises, and healthier coping mechanisms. The current season of SWAN's group therapy sessions are focused on Self-Care On The Streets (SCOTS).
Focus Groups – When researchers, product designers, academics, and others solicit input or are looking to administer questionaires, etc, SWAN can act as an advocate and facilitator. Often these outside entities don't have sex workers' best interests in mind; SWAN makes sure that sex workers are paid for their time and treated with respect. These programs can also offer space for SWAN gather our own research information to help with grant applications and the like.
Story-Telling Groups – Everyone has a story to tell. These facilitated groups provide space for current and former sex workers to share their stories in a safe, trauma-informed setting. Our story-telling groups allow SWAN members to present their whole self, without facing judgement or stigma.